Lighter
BTC Lite is much lighter than 9-year old Bitcoin. It runs on Ethereum blockchain and inherits all advantages that come with this modern platform. There is no need to download blockchain to access or spend your coins.
Faster
BTC Lite transactions are confirmed within 1-3 minutes. This makes it much, much faster than Bitcoin that can sometimes days to arrive. Average blocktime of BTC Lite is 15s while Bitcoin has average block time of 10 minutes.
Cheaper
Original Bitcoin has become more of a store of wealth. BTC Lite is meant to be used as currency. Bitcoin's average transaction fee is between $5-$8 and sometimes more than that. Transaction fee of BTC Lite is $0.002-$0.15.
News, Announcements and Guides
Same coin supply as Bitcoin.
BTC Lite (BTCL) maximum supply is hard capped to 21,000,000 (21 million) – same as Bitcoin.

Out of this, 2.3 million have been burnt, brining effective supply to just 18.7 million.

There is no possibility to increase the supply.

You can buy BTCL from following exchanges.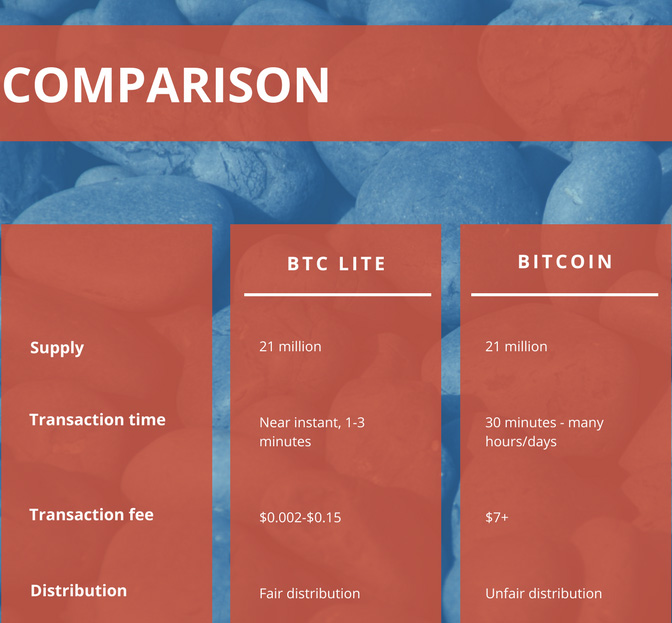 Read the BTC Lite (BTCL) Whitepaper
BTC Lite is a decentralized cryptocurrency that promises to make Bitcoin lighter, faster and cheaper. It provides faster transactions speeds than both Bitcoin and Bitcoin Cash.

Read the Whitepaper to know more about BTCL.
Roadmap
BTC Lite team is always working on new things. Here are the things we are currently working on.
Listing on 5 cryptocurrency exchanges
Listed on STEX.com (Jan 5 2018)
ForkDelta/EtherDelta Listing (Feb 3 2018)
UbiTok.io lists BTCL (Dec 13 2017)
Coin details:
| | |
| --- | --- |
| Ticker symbol | BTCL |
| Decimals | 8 |
| Smart contract | 0x5acd19b9c91e596b1f062f18e3d02da7ed8d1e50 |
| Supply | 21,000,000 |
Supported Wallets
Donate for getting BTCL listed on more exchanges
Ethereum/ERC20 token address
Bitcoin address